Digital File Printing from an Email, Disc or USB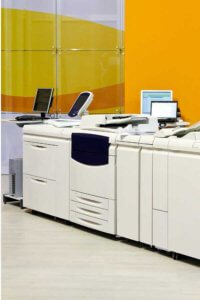 We operate high-speed printers and can print large batches of scanned documents, PDFs, TIFFs, Text Files, Email Files, Electronic Spreadsheets and other formats in color or black & white.  We can also print multiple collated sets and staple, bind or put them into three-ring notebook binders.
Our equipment can print customized index tabs, or we can print colored slip sheets in between sections if you prefer.
Our digital printing services also allows for document numbering or bates numbering when your project is needed for litigation.
At CopyScan Technologies, we have the highest quality assurance procedures in place, which includes validation report and page number counts.  That is why your documents are printed and prepared error-free.