There's Only One Number You Need to Know for Bates Labeling… and That's Our Phone Number!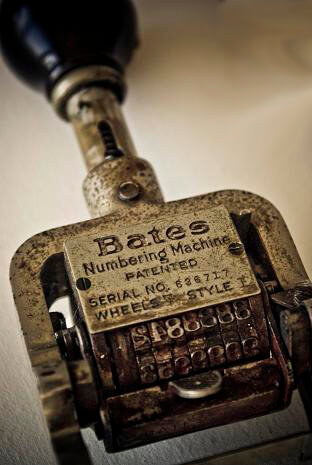 As with our Litigation Copying, Scanning and Digital Printing services, you can expect 100% accuracy at CopyScan Technologies.
Each label is double-checked by Bates technicians in our quality control department before your order ever leaves our facility.
When we pick up your documents, we carefully make note of your numbering instructions and enhance your documents with any prefix or extension you request.
Plus, if you choose our Document Scanning service, Bates Labels can be electronically placed on your document images during scanning and a paper set can be printed if needed, or we can Bates stamp your original documents with computer generated labels and Copy or Scan them to give you that needed extra set.  No matter what your Bates labeling needs are, our staff will ensure that your document is processed without affecting the readability of the document, regardless of which method you choose.
With electronic Bates labeling, we can use any prefix or suffix that you want.  We can also place them in a specific desired place on your document, without covering up any information.
If you have data files like emails with attachments, we can covert the digital files to PDFs and electronically label (brand) those images as well.  Then we can give the Bates version back to you on a CD, thumb-drive, hard-drive or even securely transfer them to you through our encrypted file transfer system.
For Electronic Discovery, we can electronically label the documents you produce to the opposing counsel.  During multiple productions, our project managers will help keep track of the last number used to keep your documents in sequential order.
Our Bates solutions include:
– Bates numbering to your exact specifications
– Flexible Bates and Document Management
– Bates Label document processing
Demand Better Bates labeling: Only at CopyScan Technologies.