A jury looks closely at the evidence… so do we.  At CopyScan Technologies, we believe that the best Trial Presentation is a combination of "new school" and "old school."
Full Trial Presentation Services in the Courtroom
Digital multi-media presentations are becoming more of a necessity. With the latest technology, you can have the availability of your whole case by a keystroke. Stay organized, save time and take control of the jury's attention. Presenting your case in multi-media allows the jurors to learn and retain information on multiple cognitive levels.
Our Trial Presentation Support team is there to help, so you don't have to manage pulling up exhibits on your computer instead of managing your trial and presentation strategy.  Our experienced trial technician will meet with your trial team ahead of time, and get your entire document presentation ready with exhibits and videos.  We supply the manpower and equipment required by the courtroom, whether it's TV monitors or a projection screen, audio speakers, ELMO projector set-up and a backup computer.
Winning Trial Graphics and Presentation Services
We also firmly believe that there are always a few exhibits that you want to leave up for the judge and jury to see as long as possible, and the only way to do that is to have us create an oversized Trial Board.
Substandard materials, sloppy mounting techniques and low resolution images don't cut it in court. But that's exactly what you'll get from a lot of other so-called litigation support companies that use third-party vendors to make your trial exhibits.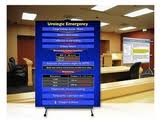 CopyScan Technologies does everything right here, in-house.  We have a professional graphic design department staffed by highly trained trial specialists who make trial boards, video trial exhibits and large format images that capture the jury's attention and give legal professionals peace of mind.
Yes!  We do trial boards. Better than anyone else!
We're an Important Part of Your Trial Team!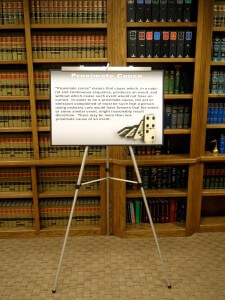 Litigation is full of deadlines, headaches and demanding client expectations, especially at the time of Trial.
The team at CopyScan Technologies understands trials are won or lost based on how well attorneys pay attention to the details — especially when it comes to quality trial graphics.
We know that using high quality trial exhibits, and one of our experienced Trial Presentation Technicians in the courtroom, is a winning combination of "powerful tools" in your courtroom arsenal.
Why put your trust in a trial graphics vendor who doesn't understand the unique pressure you're under to deliver results right away?  With more than two decades of exhibit production excellence, CopyScan Technologies has long-term relationships with many top Law Firms, Corporate Legal Departments and Trial Consulting Experts in South Florida — and across the nation.
We can also Copy or Print Trial Notebooks / Exhibit Binders in multiple sets, and deliver them to the Courtroom, Law Firm or Hotel War Room for you.  We understand that everything is hectic and sometimes last minute when it comes to trial time, so we're ready and able to be there when you need us.
Law firms call on us time and again because they know CopyScan Technologies delivers top-quality, winning results with every job – large or small.
We employ the best technology in our secure, HIPAA-Compliant 24/7 facility, staffed by some of the highest trained and certified document technicians anywhere.  At CopyScan Technologies, you can count on compelling visuals, quality trial graphic presentations and the very best customer service experience in the litigation services industry.
Our Trial Graphics capabilities include:
High resolution, 16 million-color presentations
Large format duplication from virtually any format, including video frames, custom-tailored to your specifications
X-Ray/MRI  Trial Boards
Certified Medical Illustrations
Three Dimensional Modeling Printing
Timelines
Documentaries
[cincopa AUKAPT6_FumC]