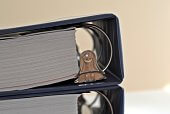 We're a Vital Part of Your Trial Team!
Litigation is full of deadlines, headaches and demanding client expectations, especially when it's time to prepare for Trial.
The CopyScan Technologies trial experts understand what it takes to print professional quality trial binders.  We know that using high quality trial binders and exhibits in the courtroom, is a winning combination of "powerful tools" in your courtroom arsenal.
Why put your trust in a trial graphics vendor who doesn't understand the unique pressure you're under?  With more than two decades of trial binder and exhibit production experience, CopyScan Technologies has long-term relationships with many top Law Firms, Corporate Legal Departments and Trial Consulting Experts across the nation.
We can also Copy or Print Trial Notebooks / Exhibit Binders in multiple sets, and deliver them to the courtroom or mediation location, your law office, hotel or war room for you.  We understand that everything is hectic and sometimes last minute when it comes to going to trial, so we're set up to be ready and able when you need us.
Law firms call on us time and again because they know CopyScan Technologies delivers top-quality, and fast winning results with every project – no matter how large or small.
We employ the best technology in our secure, HIPAA-Compliant 24/7 facility, staffed by some of the highest trained and certified document technicians anywhere.  At CopyScan Technologies, you can count on compelling visuals, quality trial exhibit binders, and the very best customer service experience in the litigation services industry.
You can either upload your digital file to our secure and encrypted FTP portal, or we can download the file from your email.  We can also pick up a CD, thumb-drive or portable hard drive from your litigation team's location.