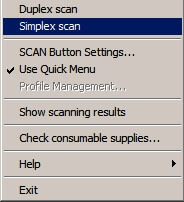 Many consumer electronics companies are expanding their product portfolio to include document scanners.  Once reserved for large companies with substantial budgets for office electrics, paper scanning technology is now more affordable than ever.
But affordability of document scanners doesn't take into account the cost of resources and time to process the documents themselves.
Before investing in a document scanner, many business managers fail to consider the entire cost related to internal document scanning and whether purchasing a scanner for the office would be beneficial long-term.  Finding a document scanner with the facility to handle heavy workloads and increase your business potency is vital.  A high-volume scanner is what your business needs, if you have large quantities of daily scanning.
For most companies, the purchase of a document scanner often causes buyers remorse for business owners.  That's because local companies are available to process documents using high-volume scanning equipment designed especially for ease of document access; these companies often charge less for their services than the long-term costs of owning a high-production scanner.
While many scanners have a good range of quality features that make information management easy, there are plenty of business document scanning companies that offer the same pliability as having your own office scanner, but with professional quality processing.
Here are some great benefits a scanning service provides:
Scanning companies are faster!  The ability to take a massive pile of documents and convert it into an electronic format in an exceedingly short period of time will appear easy.  Scanning speeds can exceed 120 ppm ( pages per minute).  You'll soon find out that your office can handle even the largest daily scanning needs inside a given deadline.  Having the facility to convert your office to a paperless environment in a relatively short period of time can occur simply with a high speed business class scanner.
Imagine eliminating filing cabinets and being able to share documents digitally with clients and staff on a local, national or international level. Having a high speed scanner.
Professional scanning companies can digitize your office in a brief period of time.
The image quality is unequaled by rivals!  Scanning companies are not only users of prime quality equipment that are exceedingly fast and trustworthy, they also are renowned for making unparalleled image quality in monochrome and color.  Your all-in-one printer can't do that.
Placing a large scanner in a tiny cubicle or office space will only keep the area feeling and looking cramped.  Who wants to lose the office filing cabinets only to exchange them with a large hideous scanner?
Having a document scanning partner won't just save you space; it will also allow you to toss out or destroy those documents that are now electronically recorded on your system.  Once a document is scanned it's simple to organize them in an electronic file for scanning and locating via any computer on your network.  Documents can also be set-up with security rights so that only select individuals are permitted to gain access to the documents.  Scanning and storing documents digitally will also allow you to back these documents up to stop the loss of any important info.
So before you decide to invest in a high-speed document scanner, give CopyScan Technologies a call for a FREE Consultation.