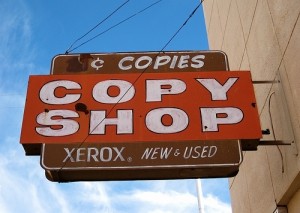 Wireless convenience and our "always on" business culture are slowly slaughtering the paper document.
The e-Office isn't quite as commonplace as the iPhone — at least not yet.  So the resulting document management reality is that companies will be managing hybrid offices for a while to come.
Economic Woes and Budgetary Wisdom
Business spending on technology is not as expected.  The economy had brought a new reality to office managers throughout the United States, where resources and budget expenditures are getting near-daily reviews and cuts by corporate officers.  Whereas once upon a time, cutting down on paper waste in the workplace was considered a mandatory expense that was environmentally responsible, now paperless offices seem like science fiction again outside of those who work for Geek Squad, Apple or other techno-centric companies.
Why the eOffice Still Works
But there's still a strong case to be made for businesses that want to turn their paper into an endangered species, at least in their office space.  Paperless document storage is more secure than hard copy records of course, but there are times when paper is still necessary.  Whether for financial statements, internal audits or nostalgia for the "way things used to be," as many office managers prefer to keep their paper around because they are resistant to change.  After all, the ink jet and laser printers have been around the office place for so long, clicking print is a mighty hard habit to break — unless something better comes along.
Electronic or Else
The other barrier to paperless offices is lack of enforcement.  The idea of creating, housing and reviewing all the documents that make your business tick online sounds pretty convenient, but for human resources managers and corporate trainers everywhere, it's enough to make them cringe.  Making such a wholesale change in your business operations doesn't come without a lot of patience, communication and follow-up.  Plus, what's to keep employees from breaking the no-paper rule?
Enforcement of a paperless policy needs to be the first consideration after you hire a document management company.
Spread the Dread
Going completely paper-free sounds like a mammoth task.  And it is.  Auditing all of your filing cabinets or storage warehouse for documents, dates and proper labeling is about as appealing as watching paint dry to those who are not organizationally inclined.  That's why it's critical to consult a professional document management company for expert advice.
Document managers have seen it all when it comes to paperless office transitions.  You can cut down on your workload and ensure a pro-employee transition if you seek out the expertise of the industry professionals.
At CopyScan Technologies, we can help you create the Paperless Office that you always wanted!  Just give us a call and we'll give you a FREE Consultation.