At CopyScan Technologies, Document Scanning, Legal Copying and Digital Printing is the Cornerstone of Our Company.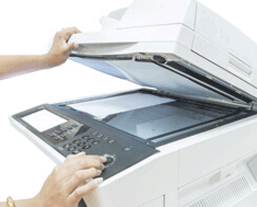 We are proud to serve the leading Law Firms, Corporate Legal Departments and Government Legal Departments in the U.S., specializing in litigation, medical malpractice, civil and criminal law.  Our clients have been relying on our team of CopyScan Technologies document specialists to deliver the professional quality results their attorneys demand, since 1995.
Your Litigation Copying and Scanning project is unique to your client.  This is why we do more to earn your business than any other Litigation Support company.  We know that small details in legal duplication matter just as much as the time you prepare for trial.
Full Service Litigation Scanning: We can make an exact duplicate of your documents digitally, showing all page breaks for each staple, clip, notebook, loose pages etc.  This helps maintain the relationships of which pages belong together while you are going through the discovery process.  We can make "Load Ready" files to import the images into your eDiscovery platform, or we can provide one for you to make document review more efficient.  Or, we can simply give you text searchable PDF images if you prefer.  Our trained technicians can even transfer the digital files to you through our secure FTP site.
Full-Service Copying and Duplicating:  Our legacy services for those attorneys that prefer paper documents, include copying documents size for size, duplexed as originals or oversized documents copied and folded as originals.  We can staple and clip copies as originals, copy folder tabs, index tabs, etc.  The documents can be rubber-banded or clipped by redweld, folder or notebook the same as the original.  We can reproduce full-color documents, photos and presentations in nearly any size you need.
High-Volume Digital Printing:  We specialize in large projects, and have the expertise, resources and facility to meet your deadline.
Color and Black & White Digital Document Printing: We can create professional prints from your digital files, and deliver them to your office or the courtroom.
Oversize Black and White Copies and Printing: Large-Format Digital Images , Copies, Digital Prints and Enlargements.
Finishing and Binding: Custom binding and finishing is easier at CopyScan Technologies.  We can punch holes and put your documents in notebooks, or bind them for presentations with GBC (coil) bind or Velo (strip) bind.
CD/DVD and Thumb-Drive Duplication: Create electronic copies of your documents, videos or photos.
When you Scan, Copy or Print with CopyScan Technologies, you are guaranteed high quality results with every call, precisely the way your client expects.